Alan Thomas went from 304 lbs to 175 lbs in 260 days and he shares his journey how being obese negatively impacted his life and business and how he turned the tides.
According to the CDC's National Health and Nutrition Examination Survey, in 2018, 35 million people are obese in the United States. That is likely over 1 billion pounds of fat that US men and women are carrying around each and every day. Think about that. The question that comes to mind is; How does any one that finds themselves in this group get out?
If you are carrying around this unnecessary weight and you have tried every diet that you can find, you have awakened countless mornings feeling like this burden is hopeless, I know exactly how you feel.
My name is Alan Thomas and on March 2, 2017, at the age of 55, I stepped on the scale and it read 304 pounds. Literally panic set in, it was the day after my 31st wedding anniversary and 3 thoughts ran through my mind.
I could not recall ever meeting a 65 year old man that was more than 100 pounds overweight, to me that meant I had less than 10 years to live.
I would likely be known as my wife Angie's first husband, since I would probably be dead in less than 10 years.
All of the dreams would be cut short by my obesity.
In that state of panic, while still standing on the scale, I reached for my cell phone and snapped a picture, because at that moment I decided to never see those numbers on a scale that I stood on again.
Fast forward 13 days, I took part in a 5 day virtual group coaching program to get momentum in my business.
After speaking with me for about 25 minutes, my individual coach asked me, "What's holding you back?"
My response was my weight.
That interaction led to me to publicly commit on my Facebook page to losing 129 pounds by November 22, 2017.
129 pounds in 252 days.
Posting a picture of my weight every day I reached 175 pounds on November 17, 2017. 5 days ahead of schedule.
Decades of obesity conquered in 8 months.
It was never about a diet, it was always about mindset.
I learned a lot on my journey, and now I coach people through the process that worked for me.
I'm not a medical professional, dietician, or fitness expert. I am an ordinary guy that allowed himself to get morbidly obese. Believe it or not I am thankful for that 129 pounds of fat, it allows me to understand what many who cannot seem to overcome their desire to overeat are going through.
If you identify with where I was in 2017 and are ready to make a change, maybe I can help.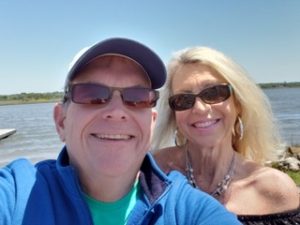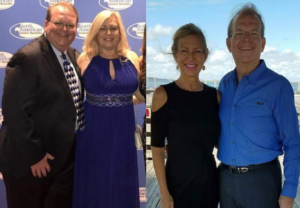 I met Angie as a freshman at the University of South Carolina in 1980, we were married in 1986. We are the proud parents of Blake 28, Adam 24, Joshua 20 and Ashley 16.
Like many of you reading this, our lives have gone through many transformations.
We have bought and sold a successful business, built a massive multi- level marketing business, sold our home in South Carolina and relocated our family to live by the ocean, (a dream we had since we were in college). I have also built a successful insurance business where I produced, recruited and trained dozens of agents.
In 2004, I was a partner in a successful fine men's clothing business in Columbia, SC that was in it's 15th year in business. I became discontent with the "4 walls of retail" and longed for a change. With Angie homeschooling our children, we took every opportunity to visit Charleston, SC, Hilton Head, SC or South Florida. We longed for life by the coast but the thought of leaving a long standing business partnership made that dream seem impossible.
In May, 2004, I read that if you are dissatisfied with your current work situation the choice to change the situation is within you. Within 14 months we sold our part of the business, sold our home and moved our 4 children, then ages 3-15, to Amelia Island FL. Location Transformation Success!
Now living within 1 mile of the Atlantic Ocean and enjoying my new lifestyle, I had to transform my work. Working closely with my mentor and life coach, Dan Miller, Author of 48 Days to the Work You Love, I decided to start up home based business opportunity. I set a monthly income target and gave myself 90 days to reach it. Within 90 days, I hit the monthly income target on a weekly basis. I was my making 4 times my original goal.
I then worked closely with, success coach Jairek Robbins to overcome limited beliefs that resulted in growing my direct sales team from 38 close friends to over 40,000 distributors. Business Transformation Success!
About 2 years later, the direct sales parent company closed. Thrown into another "transformation opportunity" I quickly reinvented himself. I got licensed to sell insurance and quickly became a 6 figure income personal producer and trained and coached dozens of agents in life and health insurance sales. Another Business Transformation Success!
But throughout the life, location and business transformations, We ignored the most important aspect of our lives, our health. During a week long on-line coaching event that we enrolled in March 2017, I received a 10 minute coaching session that proved to be the key to successfully moving forward with our health.
The coach, Hyo Kim asked me "what do you think is holding you back from reaching your next level of success?
I answered "my weight".
I am 5'11" and weighed 296 pounds down from 304 pounds on March 2, 2017. I knew if I could stick to it, I could reach a healthy weight, but always seemed to get off track after losing 10, 20 or 30 pounds. When asked if I had ideas on how to get healthy, I replied, "Yes".
"How would you do that" Hyo asked?
"If I posted my weight to Facebook everyday", I said.
"That's a great idea, do it now!" Hyo answered.
"No, maybe next week," was my response.
Hyo said "do it now Alan, if you want to change".
So without talking it over with Angie(they always discuss big decisions), I posted my weight for all the world to see on Facebook. Wow!
How crazy is that?? Crazy enough that Angie was questioning her husbands sanity. Why would I embarrass myself but also her and our children? But after I posted my weight to Facebook for just 2 days and people started asking how to join the Extreme Accountability Challenge, Angie posted her weight too. Together, Angie and I lost 192 pounds. I lost 129 in 252 days and Angie lost 63 pounds in 252 days. Health Transformation Success!
Relevant Links